In which one speaks of schools not of bicycles...
Sekolah tua = old school. Do keep up. Sigh.
I mention old schools partly because of what happened this week, which could as easily have been called the week of cheques and coffee.
Coffee because I was showered with coffee cards. First the good Mr. F sent me a card to say TQ for sending Mr. S to him for services required. I heartily suspect that the card was sent in the first flush of gratitude for sending Mr. S. We shall see whether any more cards are forthcoming...Mr. W and Mr. A will know of what I speak as they've both commented on the responsibilities that Mr. S may or may not have with respect to pharmacokinetics or biodistributions. You notice I say Messrs. not Drs. because they're mere Esquires. Then the coffee place I frequent (all too often - but only because it's convenient) sent me a gold card with super special privileges. And they too had loaded monies onto the card for my spending pleasure.
Cheques because I received two cheques this week. The first was most inauspicious, the figures spelt out "starve to death, death" and despite my protestations, the writer of this
death wish
cheque wouldn't change it triple Eight which would have been much better - for by bank balance and my state of mind. Some people are so selfish. Tsk. The second cheque spelt out "Climb with Strength", but it was probably misplaced strength because the cheque was written by me to Dr. C over 8 months ago, and of course Dr. C being Dr. C simply hadn't cashed it and so returned it to me for recycling. I shall think about it for I've not actually climbed very strongly recently. But I shall start.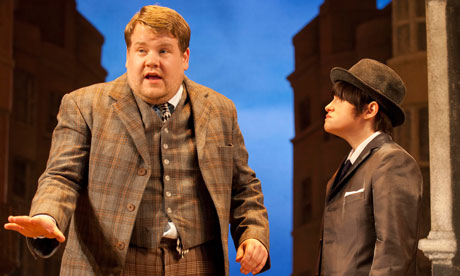 Last night - speaking of starving to death - I attended a performance of "
One man, two guvnors
" at NT Live and left with sore tonsils because I laughed so much. It was a wonderful, wonderful, wonderful show. James Corden was brilliant. Simply FUCKING brilliant. I'm quite in awe of him and am developing a 'thing' for him as Mr. Dustin Pubsmith put it. Farce with a heavy dose of physical humour isn't generally my thing, but Mr. Corden has such a winsome way about him, he's also as quick on his feet as he is with his wit except when offered a hummus sandwich by a member of the audience when he was quite taken-aback.
Mr. Corden asked for a sandwich during the show because he was hungry, not having eaten for 16 hours, but was unable to partake because he had to move a trunk for one of his two guvnors. Later when he's handed a tureen of soup, the expressions on his face when wondering whether to serve it or eat himself were again simply FUCKING brilliant as he wavered between weak resolve and temptation of the highest order.
I almost feel like getting a plane ticket just to go to London to see the show. Except it's probably not on any more. Mr. Corden was good at all he did - whether it be wooing Dolly, catching peanuts in his mouth while falling backwards in a chair, setting off a mousetrap while trying to eat the slightly nibbled cube of cheese on the trap (Cheshire! My favourite!), or adopting the winsome ways and accents of Paddy, his Irish friend who is blamed for all that happens to him ("It's not simple working two jobs!").
Thank you Mr. Corden for a delightful evening - he carried the show, but was supported whole-heartedly by the rest of the cast who were all uniformly good. The show was brilliant - SFB (SIMPLY FUCKING BRILLIANT, my highest ever accolade) - and the recurring jokes with increasing emphasis much like an extended bout of comedic foreplay. And shit i have a train to catch. Toodles.